Clean Bite, LLC has filed an OPO (Online Public Offering) with the U.S. Securities and Exchange Commission (SEC) using NetCapital.com. Netcapital is a Funding Portal registered with the U.S. SEC and member of the Financial Industry Regulatory Authority (FINRA), a registered national securities association, as required by SEC rules.
The pre-money valuation is $8M and the SEC Regulation CF raise has a targeted post-money valuation of $9,068,000.
Clean Bite, LLC was formed in August 2017 and registered in the Commonwealth of Pennsylvania. Its purpose was to purchase, under negotiated terms, all the assets of its predecessor Dent-Chew Brush, LLC (DCB) which had originally been funded in January 2009 as a development firm to design and patent a single use toothbrush. DCB's business model was that of a licensing firm whose objective was the licensing of any resulting IP.
From early on, Kodak and a subsidiary Eastman Gelatine, Inc. (EGI) were strategic partners that provided material assistance in order to acquire the sole rights to supply gelatin on a global basis as a primary component to the toothbrush. Over the first three years the investment funds were consumed by design iterations, prototyping, patent filing and continual defense of claims before the USPTO.
Then in January of 2012 Kodak sought Chapter 11 protection and EGI was sold off. This was still twenty-two months before the U.S. Patent was issued. With the loss of Kodak and having run out of money, John Gallagher, the Managing Member, began to barter his own equity to continue advancing the R&D efforts.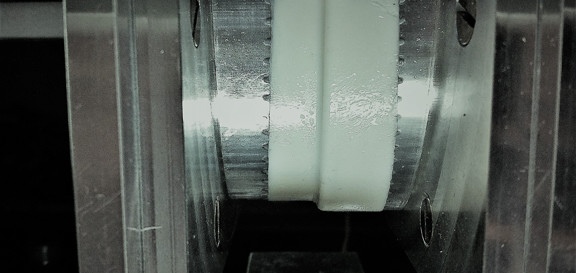 The concentration was placed on designing and building the automated endothermic injection equipment as a prerequisite to high speed production equipment. During the same time period the JOBS Act was passed in May 2012 and was anticipated that it would be operational within six months. The equipment was built within eighteen months, but no funding could be found or solicited until 2016.
In the fall of 2016 Gallagher was contacted by J&J and asked to meet and provide samples. When Gallagher was asked what he would like to accomplish the response was to either license or sell the patent, to which he was told that J&J had no interest other than the purchase of a $100M company to transform it into a $1B division.
What was more interesting was J&J's target market being populations in the developing world where potable water was unreliable; diminishing the possibility to expand the sales of the Listerine brand. The interest in Clean Bite™ was anchored in the fact that it was a single use oral hygiene product that provided a complete regimen that would enable the user to brush their teeth, gums and tongue without the need for paste, brush or water. The use of Clean Bite™ as a delivery system was completely overlooked.
This was the multinational's vantage point that punctuated the need for a change to the business model and over the next six months Gallagher revamped every aspect of the business into a three-phase plan. The first phase calls for a concentrated effort to development highspeed manufacturing equipment that would facilitate the second phase to support Licensed Franchise Manufacturers, setup multiple streams of revenue. Concluding with the third phase made up of distribution and sales.
When the revised plan was presented to the other twelve members of Dent-Chew Brush, LLC it was met with mixed reviews, but as the plan was fleshed out and the compensation based on a successful outcome was reviewed the plan was adopted unanimously in February 2018.
Clean Bite, LLC has only four active members which include John Gallagher, Jr. as Founder, Co-inventor and Managing Director; Roman Bielski, Ph.D., Co-inventor and Member; Thomas L. Holder, MS., Head Engineer and Member (all are DCB, LLC Members as well) and D. Craig Callaghan, Esq., Inhouse Counsel and Member.
For more information on each of the members and investment participation and posting of questions please view: NetCapital.
You may also review these Articles and ask questions on www.CleanBiteTM.com and LinkedIn.
Thank You!
Team Clean Bite